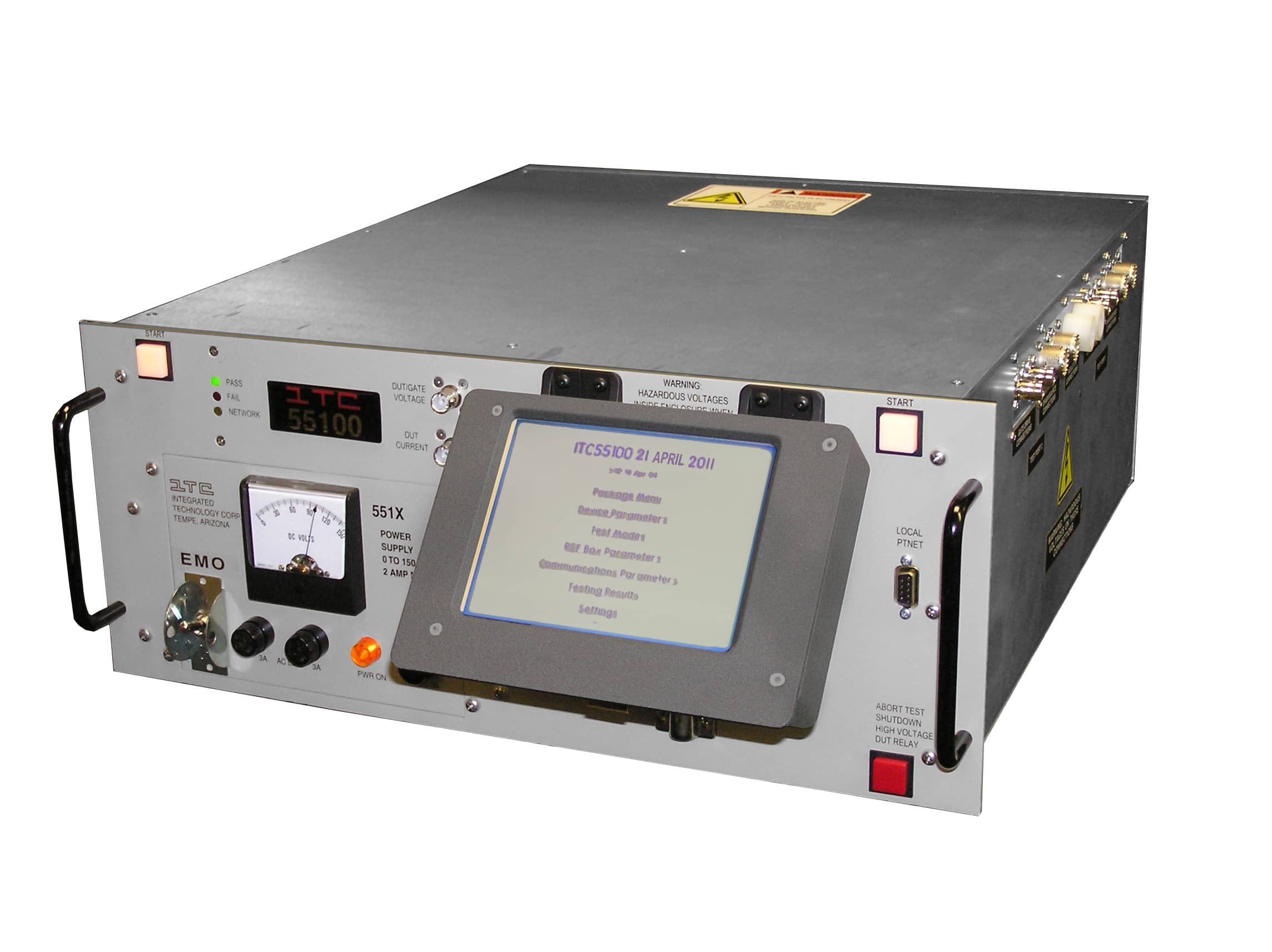 Overview
Model ITC55100C is the latest generation of the industry standard series of ITC55100 testers. The system has been designed around a very powerful micro-controller that gives it a timing resolution of 40ns, twenty times faster than the previous model. Its response time to the peak and zero current is improved ten times. Combined this gives greater accuracy for the charging and avalanche times and for the reported peak drain current.
Model ITC55100C has a bipolar gate drive as a standard feature. The user can set a total gate drive of up to 30V and can select how much of the 30V is positive and how much of it is negative. This feature ensures that the device is held off during avalanche as required for certain devices.
The ITC55100C performs several types of tests that conform to MIL-STD-750E Method 3470. Method 3470 tests the capability of P- and N-Channel MOSFETs and IGBTs by stressing them to controlled energy levels. This is accomplished by the devices driving an unclamped inductive load.
Features
Single/Dual Device Testing
N channel, P channel, Mixed
All Solid State Switching – No Relays
Timing Resolution of 40ns
Current Range: 0.1A to 200A, 0.1A Steps
Avalanche Voltage to 2500V
Bipolar Gate Drive with 30V swing
New High Efficiency Kelvin Circuit
Conventional UIL mode (via GPIB)
Touch-Screen Program Entry/Control
Waveform Capture/Display
Internal Test Program Storage (20 files)
High Speed Inductor Charging, Reduces Test Time
Programmable Leakage Test Voltage
Pre/Post Avalanche Leakage Test
Avalanche Collapse Test
Versatile Test Handler Control
Up to 15 Hardware Sort Bins
Improved Voltage/Current Accuracy
Software Updates via Flash Download
Password Control of Parameter Entry
Operates with all ITC Inductor Load Boxes
Interfaces with ITC55MUX4 & ITC55-RSF
Simple, Complete User Calibration
Built-in Self Test