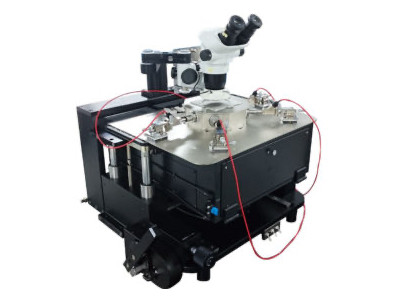 Overview
Temperature characteristic evaluation from -60 °C to +350 °C
It is a Manual Probe System which supports wafer sizes of 8 inch and 12 inch respectively.
It has a compact shield to prevent dew condensation.
The compact shield provides a low noise environment.
With XY coarse movement and fine adjustment using micrometer that can be quickly positioned by air bearing design, reliable alignment is possible.
Z movement of the platen has coarse movement that can be operated with a lever, and fine movement that can be adjusted with micrometer.
Applications
Low level IV (fA)
Low level CV (fF)
Probe solution for high-power devices 20kV DC/200A
RF measurement
Various resistance measurements such as sheet resistance
Temperature characteristic test in high and low temperature environment
Reliability test such as TDDB
Options
Thermal chuck from -60°C to +350°C
Triaxial connection to chuck
High-power chuck
Change to use CCD camera
Probe card (4 .5 inch square PCB)
Combination with various light sources
Optical System Selection
Stereomicroscope (default)
Trinocular microscope
Zoom micro CCD camera
Mitutoyo Finescope FS70Z series and FZ70L
Examples of measuring instruments to be connected
Device Analyzers/Parameter analyzers
Power Device Analyzer
Source Measure Units
Curve Tracers
Precision LCR meters
Digital multimeters
Impedance Analyzers
Network Analyzers
In addition, various measuring instruments of each company
Specifications
| | α200CS | α300CS |
| --- | --- | --- |
| Wafer chuck size | ~8inch | ~12inch |
| Stage travel range (Coarse) | X:200㎜ Y:200㎜ | X:320㎜ Y:320㎜ |
| Stage travel range (Fine) | X:±12.5㎜ Y:±12.5㎜ | X:±12.5㎜ Y:±12.5㎜ |
| Stage θ travel | ±5° | ±4° |
| Z Stage travel | 0ー0.3ー5㎜ | 0ー0.3ー5㎜ |
| Z Stage fine travel | 10㎜ | 10㎜ |
| Dimensions | W690×D780×H620㎜ | W965×D930×H700㎜ |
| Weight | 80㎏ | 165㎏ |
Gallery